---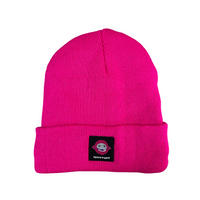 Betty the Yeti is Snowport's very own cryptozoological creature. Turning 389 this year, Betty has been all over the world but always makes her way back to Boston to celebrate Snowport. Much like Bigfoot himself, Betty the Yeti is an elusive character, and you never know when you'll see her next!
All profits from Betty the Yeti beanie will be donated back to 826 Boston, home of the Greater Boston Bigfoot Research Institute.
Neon Pink 

Knit hat 

100% acrylic

3 inch folded cuff

Detailed Betty the Yeti Snowport patch embroidered on the front 
100% of all profits of this Betty the Yeti beanie go to 826 Boston. 

This is a limited edition collection and will not be restocked. This item is final sale and cannot be returned, refunded, or exchanged. 
--
About 826 Boston, home of the Greater Boston Bigfoot Research Institute.
826 Boston is a nonprofit writing, tutoring, and publishing organization where students in grades K-12 and beyond can share their stories, amplify their voices, and develop as leaders in school and in life. 826 Boston serves more than 4,000 students each year, both in and out of school, across the city of Boston. Like every chapter in the national 826 network, 826 Boston has a unique storefront that reimagines the core community and educational space: the Greater Boston Bigfoot Research Institute. Inside, you will find a 10-foot statue of Bigfoot placidly oversees a display of cryptid artifact props; the terrarium of 826 Boston's own living cryptid, the beloved tarantula Edwina; and, of course, the publications of brilliant students' original written works.

Cryptids represent the depth of human imagination and fascination with creatures and entities beyond our understanding–each of them unique. Likewise, 826 Boston encourages students to explore their own imaginations as far as they choose to go, while also building their confidence to express themselves in their own unique voices.